We offer four convenient delivery methods. When you check out, we'll show you all available options for your ZIP code and you can choose the most convenient:
New York Area Home Delivery
Next-day delivery to areas in Manhattan, Brooklyn, Riverdale, Queens, Westchester, Long Island, and Bergen, Essex, Passaic & Rockland Counties.

Delivery Days and Rates
We deliver in these areas on these days:
TUESDAYS
(Order by Monday night)
Manhattan
Brooklyn
Bergen County
Essex County
Hoboken
Jersey City
Passaic County
Five Towns
WEDNESDAYS
(Order by Tuesday night)
Manhattan
North Shore
Queens
Riverdale
Rockland County
Westchester
THURSDAYS
(Order by Wednesday night)
Manhattan
Brooklyn
Bergen County
Essex County
Hoboken
Jersey City
Passaic County
Five Towns
Delivery is free with $150 purchase ($250 in Rockland), or $10 for smaller orders. The order deadline is 5am on the day of delivery. If you live out of our delivery zone, we can ship your order affordably via FedEx.
Policies
Someone must be home during your delivery window to receive your delivery. If you cannot be home during this time, you must leave a cooler outside where we can leave your order, or tell us in the Special Delivery Instructions that you would like us to leave your order without a cooler.
If you are not home when we arrive and have not left a cooler or alternate instructions, we will call you for instructions. Please make sure the number on your invoice is the number where we can reach you during delivery hours. If you are not home and we cannot reach you and you have not left a cooler or delivery instructions for us, we will not leave your order. We will contact you to reschedule delivery. Additional delivery fees may apply.
If you are leaving a cooler for us, please put enough ice in the cooler to keep your products frozen until you get home. Our products are fully frozen when they are delivered. We are not responsible for lost, damaged or thawed items once they have been delivered.
Shipped to Your Door
We ship nationwide via FedEx to any location in the USA. We'll help you fill your shipping container so that you get the most out of your shipping fees. We ship Monday-Thursday with a 1pm ET deadline for same-day shipping.

When will it arrive?
Orders received by 1pm on Monday-Thursday will ship out the same day. Orders received after 1pm will ship the next day (or the following Monday, if received after 1pm Thursday). Use the chart to see your scheduled delivery day.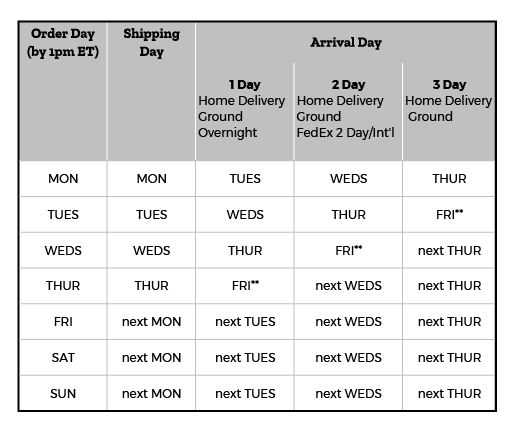 Use this Shipping Options and Zone Map to find out which shipping options are available in your area.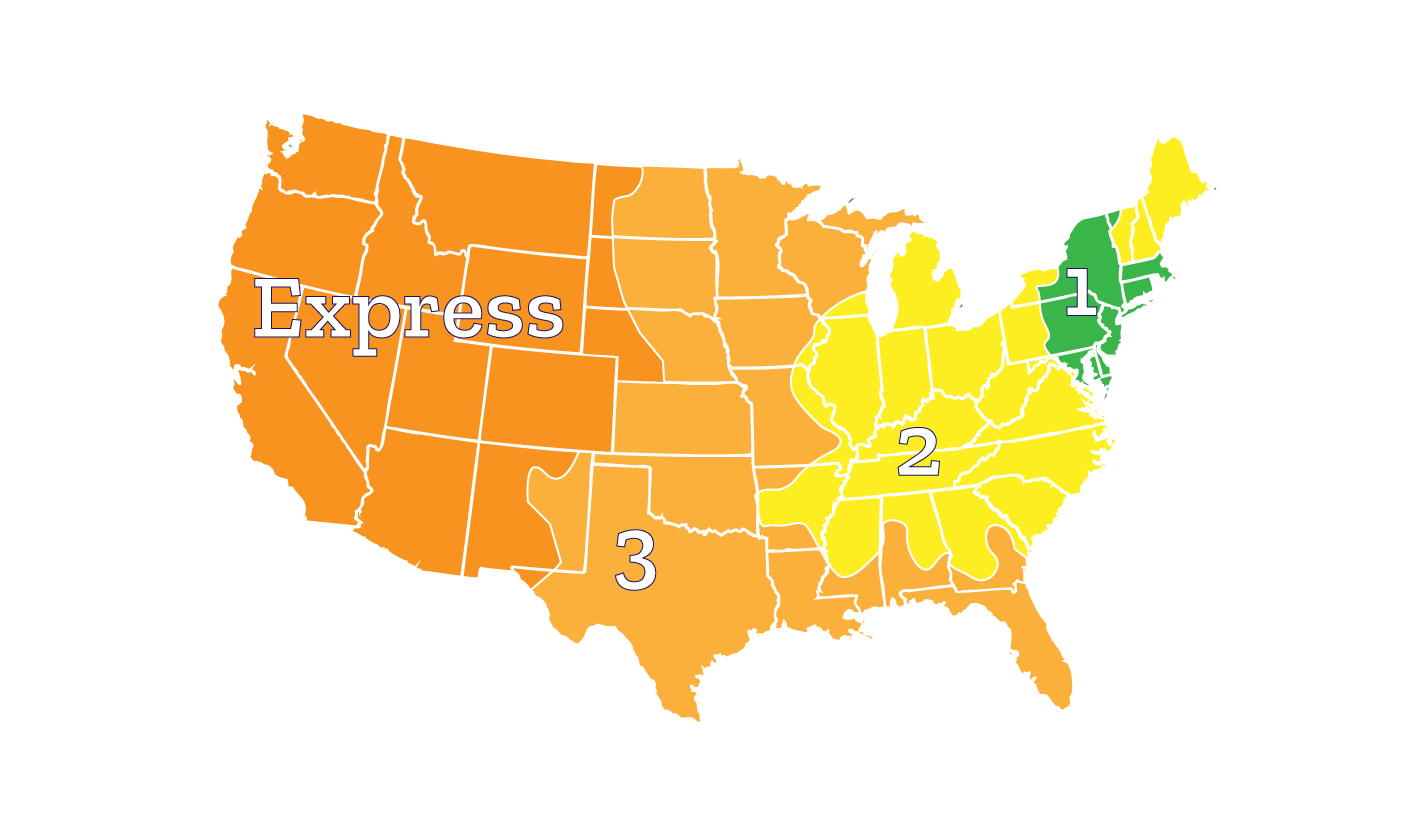 Policies and Details
If you select Mail Order, your order will be sent via FedEx. Grow and Behold is not responsible in the event that FedEx is unable to deliver a package on the schedule date.
All packages to home addresses are shipped "sign release," meaning no signature is required and FedEx will leave the package at the address UNLESS they feel it is not safe to do so, or it is an apartment building with no safe place to leave the package.
Packages shipped to businesses require a signature upon delivery and are generally delivered before 5pm.
We pack our products securely and with enough dry ice to handle an extra day of shipping, in the case of any delays. Dry ice sublimates, so even if there appears to be 'no dry ice' in the box when it arrives, as long as everything is cold to the touch, it is safe to refreeze and use at a later date (even if it is no longer frozen).
Please double-check your address. Grow and Behold is not responsible for delays caused by typos, errors or omissions in the delivery address.
Philadelphia / South Jersey Pick Up
Pick up your order at a drop-point in the Philadelphia area, every other Wednesday. Click Pick-Up Locations to see the next delivery dates for your area.

Policies and Details
Occasionally, pick-ups may be delayed due to weather, holidays, traffic incidents, or other issues beyond our control. We will give you as much notice as possible in the event of any delay. We appreciate your flexibility in the event that pick-up needs to be rescheduled. Grow and Behold will not issue refunds for delivery costs or products in the event of a delivery-related delay.
Please check your invoice carefully to make sure you have picked up your entire order (which may be in both boxes and/or bags) before you leave the pick up location. If there is a problem with your order, you must notify us within 24 hours of the pick up time. We cannot be responsible for missing items that are reported after 24 hours.
Buying Clubs / Bulk Shipping Orders
We offer bulk shipments to help you save on shipping in over forty cities, generally right before a long weekend or major Jewish holiday. Each city has its own delivery deadlines and dates. Find a Buying Club near you.
Products are shipped frozen and will arrive frozen or partially-thawed. Meats that have thawed but are still cold can be refrozen immediately with no loss of quality for long-term storage. Learn more.