We love to be a part of your holiday celebrations. Read on for our full delivery schedule, High Holiday Menu guide and defrosting tips to help you make the most of the holidays.
Delivery Schedule
We generally ship Monday-Thursday, although keep in mind that we are not shipping on any of the Jewish holidays. We have extra delivery days for our NY/NJ Area customers the month of September to ensure you can get what you need. If you have questions about timing your delivery, please contact us.
Delivery anywhere in the US -
View Schedule
Order by 1pm ET and your package will be scheduled to arrive on the dates shown on that date. Available delivery dates are shown in green. Note that 3-day shipping is limited to September 4, 17 or 18.
Manhattan, Brooklyn, the Five Towns, Queens, Bergen County, Riverdale & Westchester -
View Schedule
If your area is listed on a date, we will deliver to your area on that day. Order by 5am the same day (effectively, the night before).
Key: MH=Manhattan, BK=Brooklyn, 5T=Five Towns & West Hempstead, WEST=Westchester, RIV=Riverdale, BERG=Bergen County, QNS=Queens
Rockland and Essex County, the North Shore of Long Island, and Long Beach/Far Rockaway -
View Schedule
If your area is listed on a date below, we will deliver to your area on that day. Orders are due by 1pm the previous day.
Key: ROCK=Rockland County, ESX=Essex County, NS=North Shore, Long Island, LBFR=Long Beach/Far Rockaway
Buying Clubs & Philadelphia-Area Deliveries -
View Schedule
West Coast Buying Clubs: Orders are due by Tuesday, August 28 and will be available for pick up on Wednesday, September 5 (Los Angeles) or Thursday, September 6 (all other locations).
East & Central Clubs (excluding Colorado): Due to the proximity of Labor Day and Rosh Hashanah, we will ship orders of $100+ directly to your door for the same Buying Club rate. Learn more
Philadelphia and South-Jersey Area Pick-Up: Between now and October 5, we will ship orders of $100+ directly to your door for $10. Learn more
5779 High Holiday Menu Guide
From pomegranates and apples, to fresh herbs, to long-simmering stews and braises that will make your kitchen smell heavenly and some quick-prep meals to give you a break, we've pulled our favorite dishes from some of our favorite chefs, food writers and bloggers to jumpstart your holiday menu.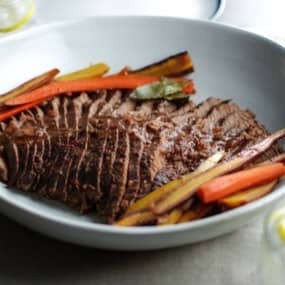 Delicious main course options for every single holiday (and Shabbat) meal this season!
Defrosting and Cooking
All of our meats are delivered frozen. We recommend that you defrost your meat on a plate in the refrigerator. Allow 24hrs for each 5lbs of meat (ie, a 10lb roast will need at least two days to defrost).
To defrost more quickly: Submerge packaged meat in cold water, weighing the meat down if necessary so it stays under the surface of the water. Change the water every 30 minutes. Allow 30 minutes per pound to defrost using this method.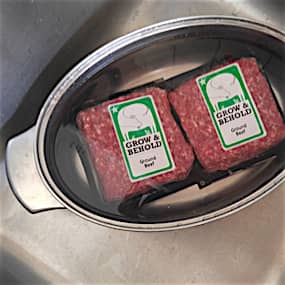 If needed, meat can be defrosted more quickly by submerging it in cold water.